Website FAQs
Buying From Designer Colours
Will I be informed if there are any problems with my order?
If there are any problems with your order you will be contacted by the e-mail address provided.
What happens if the product I order is out of stock?
We will contact you, to inform you of any items that are not in stock. If your item is not in stock, we will back order it for you. You will always be e-mailed with the option to cancel your order if you would rather not wait.
Can I change an order?
Orders that have not been processed and dispatched can be changed. Contact us on 020 8905 0667, or e-mail us quoting your order number.
How long does it take to process my order?
Once you have placed your order, we will normally process it within 2 working days.
What is your returns policy?
Please see our Guarantee and Returns Policy
Do you accept international orders?
Yes. Please contact us if you have any specific requests.

Delivery and Payment
How much do you charge for delivery?
Our system then calculates and displays the delivery charges for your transaction, based on your location and items in your basket. For complete details see our shipping charges.
How safe are my credit card details?
Our secure server software encrypts information to ensure that your transactions are protected. To find out more see our security policy.
What forms of payment do you accept?
We accept Visa, Mastercard and Switch online. If you prefer to pay by cheque contact us.
What is your price and payment policy?
Please see our Terms and Conditions for more information.

Site Details and Browsers
How is your site best viewed?
This website has been written for version 5 and above browsers and is optimised for displaying at 1024x768 and above. The website has been tested on Internet Explorer Version 6 and 7, Firefox, Opera 8+ and KHTML. Firefox, Opera and KHTML are recommended for the best viewing experience.
Is your Website secure?
Designer Colours take the security issue very seriously. Our retail system is based on the Secure Socket Layer (SSL) encryption standard. Your details are encrypted and never held as clear text. For more information on SSL and secure online purchasing please see our security policy.
How do I search for a product?
Every page has a quick search tool (located on the top right) which you can use to locate products, just enter the terms and select go
Tip: For best results use a phrase or multiple words rather then a single word.


How do I get more information on a product?
To get more information on a product, click on the "more info" next to each picture: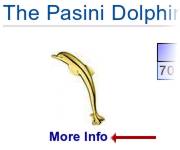 We do our best to provide you with in-depth product information on all the items featured on the website. However, if our site does not include all the information you need, please e-mail sales@designercolours.com.
What is your Privacy Policy?
Designer Colours are committed to protecting your privacy. We gather information about you to process orders and to provide a more personalised shopping experience. We will not contact you without your express permission. We will not give your details to any third parties. For more details see our Privacy Policy.
How do I contact Designer Colours?
Please contact us at support@designercolours.com or use our online contact form.