Marmaron
Marmaron AXF/MA1.5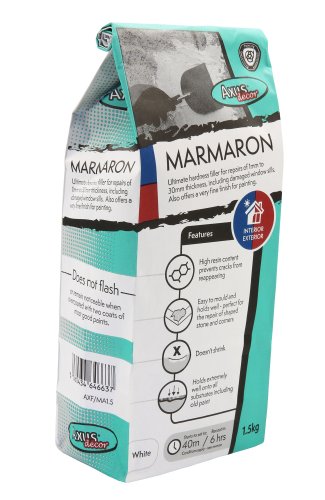 Ultimate hardness filler for repairs of 1mm to 30mm thickness, including damaged window sills. Also offers a very fine finish for painting.
Does not flash or remain noticeable when overcoated with two coats of most good quality emulsions.
High resin content prevents cracks from reappearing
Easy to mould and holds well - perfect for the repair of shaped stone and corners
Doesn't shrink
Holds extremely well onto all substrates including old paint
ADHERES TO: Masonry, concrete, cement render & stone. Do not use on flooring.
APPLY WITH: Filling knife or broad knife.
SETS IN: 40 to 70 mins
RECOAT IN: 6 hours for every 1cm thickness as a general guideline, but this varies considerably depending on ambient conditions and the nature of the substrate.
Tip: To achieve a perfect finish, always sand down before it is completely dry and hard.
| Size | Price (£) |
| --- | --- |
| 1.5kg White | 13.49 |
| 5 x 1kg White | 34.99 |
| 10 x 1kg White | 54.99 |