Finesse MX
Finesse MX AXF/FNMX1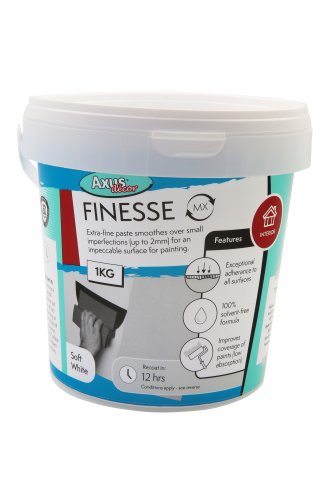 Extra-fine paste smoothes over small imperfections (up to 2mm) for an impeccable surface for painting.
Does not flash or remain noticeable when overcoated with two coats of most good quality emulsions.
Exceptional adherance to all surfaces
100% solvent-free formula
Improves coverage of paints (low absorption)
ADHERES TO: Plasterboard, old paintwork, concrete & cement render.
APPLY WITH: Filling knife, broad knife or trowel.
RECOAT IN: 12 hours as a general guideline, but this will vary depending on the thickness of application, nature of surface and ambient conditions.
Tip: Allow to set and smooth off any imperfections before sanding, if necessary.
| Size | Price (£) |
| --- | --- |
| 1kg Soft White | 5.99 |