Flex-E-Fill MX
Flex-E-Fill MX AXF/FEMX1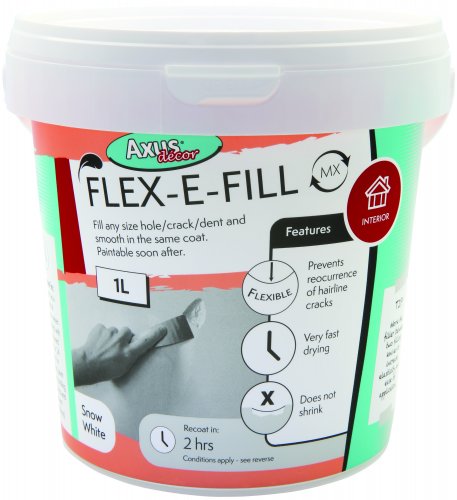 Fill any size hole/crack/dent and smooth in the same coat. Prime and paint soon after.
Prevents reoccurrence of hairline cracks
Very fast drying
Does not shrink
ADHERES TO: Wood, plaster, plasterboard, masonry, concrete, cement render, roughcast & more
APPLY WITH: Filling knife.
RECOAT IN: 2 hours as a general guideline when overcoated with water-based paints or 24 hours
for oil-based paint (varies according to thickness and ambient conditions).
Tip: Work the filler between two filling knives to increase elasticity and ease of application.
| Size | Price (£) |
| --- | --- |
| 1L White | 7.99 |
| 5L White | 28.99 |